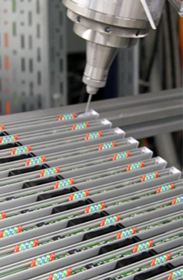 Based on our material knowledge, surface treatment and metering & mixing technologies for glues and potting materials, NiniX Technologies develops and manufactures electronic modules for use outdoor, underwater and in harsh environments, such as:
Outdoor video LED modules
Outdoor and underwater LED lighting
IP68 sensors & modules
Sensors for the extreme temperature and pressure environment of transmissions
Outdoor access control
Central heating sensor modules: corrosion, waterquality
Full protection of outdoor electronics by potting with epoxy, polyurethane rubber or silicones: from thermally conductive materials to fully transparent materials are available.
Read more about our potting expertise.
Also read more about our sensor modules for harsh environments.
With our engineering and manufacturing services, we can also offer you the the facilities for manufacturing your components. Don't forget to visit these pages!
Some realisations:
Another example is our noise cancellation module for the automotive industry.
Don't hesitate to get in touch with us via our contact page.